Tuition
(Consumer Information Disclosure)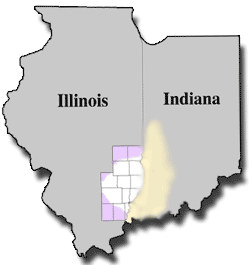 Residency




Per Credit Hour

Online*

In-District

Special Out-of-District

Out-of-District

Out-of-State

Indiana Students




see counties listed below

Non-U.S. Resident
In-District (WHITE area)
Includes all of Crawford, Edwards, Lawrence, Richland, and Wabash Counties; most of Wayne County and limited areas of Clark, Clay, Cumberland, Hamilton, Jasper, and White Counties
Special Out-of-District (

PURPLE area

)

**

Includes portions of Clark, Clay, Cumberland, Hamilton, Jasper, Wayne, and White Counties
Out-of-District (GRAY-

Illinois

area)**
Includes the Illinois area outside of IECC District 529
Indiana Students (
YELLOW area

)

Includes the Indiana counties of Clay, Daviess, Dubois, Gibson, Greene, Knox, Martin, Owen, Parke, Pike, Posey, Putnam, Spencer, Sullivan, Vanderburgh, Vermillion, Vigo, and Warrick

NOTE: For select courses in Allied Health, tuition will deviate from above rates. Click here for Allied Health Tuition.

---
See also Fees (for miscellaneous fees and fees associated with specific courses)
Tuition and fees may be added to or altered only by action of the Board of Trustees of Illinois Eastern Community Colleges. The Board of Trustees reserves the right to change fees at any time without prior notice.
*Online Courses can only be taken by students in State Authorization areas. Please read this page for details.
**Students are eligible for the in-district tuition rate when attending IECC under an approved CAREER Agreement